Presented by Marty Hubler
In the event of rain, this event will be held on the following Sunday at the Winery.  August 5th.  If the weather looks questionable, please contact the winery to confirm the concert date.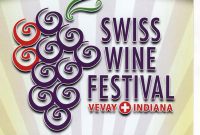 Imagine yourself in a setting surrounded by several of Indiana's Award Winning Wineries, delectable cheeses, an unrivaled view of the Ohio River flowing by with music playing in the background. Now imagine spending time in this setting with friends old and new. That is just the type of experience you will have at the Swiss Wine Festival Wine Pavilion. The tantalizing wines can be had in samples, by the glass or the bottle. Wine novice or connoisseur will not be disappointed. Each producer is on hand to describe his wine and share his fruit of the vine story. You will have a Grape Escape Good Time!
Admission to Wine Pavilion is $20.00 per person and includes wine and cheese samples and souvenir glass.
Friday 3pm to 10:30pm
Saturday 11am to 10:30pm
Sunday 12pm to 5pm
Menu to be posted at a later date.