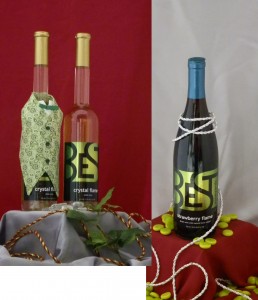 Hope everyone is keeping warm this winter season.  It seems the weather men and Mother Nature can't decide whether it's going to be warm, cold, or just down right frigid outside.  But never fear, we have a solution.
Too cold out?  Need a quick warm-up?  Ward off the winter chill with a few ounces of our decadent Strawberry Flame or  our lighter Crystal Flame.  These port-style wines are sure to help warm you up whether you're clearing snow from the deck or just making the trek from your car to the house.  Fortified with brandy, they'll warm you from the inside out.
It's  time again for our Bi-Annual T-Shirt Contest.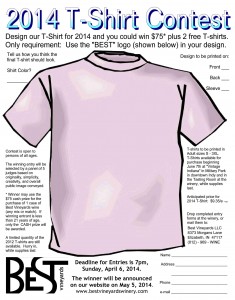 We're looking for our next show-stopping t-shirt design.  Do you have ideas or suggestions?  We would love to hear from you.  Designs do not have to be perfect.  We will send out the winning entry to a graphics artist to be cleaned up and digitized before sending it to the screen printer.  But there are limitations on the screen printing.  The maximum screen printing area is 16″ vertical (top to bottom) and 14″ horizontal (left to right).  So, designs going from one shoulder down to the bottom of the t-shirt are not possible.   Pictures of the past winning designs can be found on the "Events" link above.
The contest is open to persons of all ages.  The winning design will receive 2 T-shirts and a $75 cash prize*.  All entries must be received by 7pm on Sunday, April 6th.  The winning design will be announced on May 5th.  The T-shirts themselves will go on sale June 7th at Vintage Indiana in Indianapolis's Military Park.   (* see entry form for more details about cash prize)