The festival season is kicking into high gear this weekend and will continue for the next 4 Saturdays.  See our events page for more details and links to each event.
This year we sent 3 wines to the Grapes on the Grass Soiree for judging by popular vote:  Concord – sweet red category, Mango – dessert category (will it surpass Winzerwald's Cherry Red for the gold?), and our newest release, County White- in the dry white category.  Stop by the event on Saturday and see the results.  Last year our Chardonel received a medal.  Can we repeat it?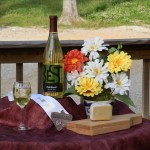 Can't make it to the event?  You can also catch us each Saturday (except June 6th) at the Farmers Market on Bank & Market in New Albany, IN.  The market  runs from May 9th thru October 31st from 8-1pm every Saturday.  Stop by and try a sample of our wines.