It's February again.  The month of Love & Chocolate and the Uplands Wine Trial's Chocolate Lovers Weekends.  Grab your sweetheart (or not) and indulge your sweet tooth.  On February 6th, 7th (yes, even on Su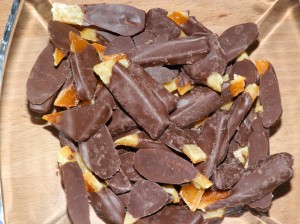 per Bowl Sunday – but hey, the game doesn't start until 6:30pm), 13th & 14th, Best Vineyards will be offering up some scrumptious desserts.  There will be decadent Red Velvet Brownies with a Cream Cheese Icing, divine German Chocolate Brownies with Coconut-Pecan Frosting, tantalizing Smore's Dessert Pizza toasted to perfection, petite Pound Cake Cupcakes with a wine reduction (in lieu of frosting), and the ever-popular (and addictive) Candied Orange Peel dipped in a luscious Dark Chocolate.  This year we'll have a small amount of Candied Orange Peels for sale in the tasting room.  Complete recipes can be found on the back of your tasting sheet at the winery or on our recipe tab shown above.  Start your journey on the Uplands Wine Trail this weekend and enjoy the Chocolate Extravaganza.
February 6th is also the opening weekend for 2 contests we will
be having.  The first is our bi-annual T-shirt contest.  Click HERE for a downloadable version of our entry form.  Entries must be received by close of business on April 7th.  The winning entry will receive a $75 cash prize*, 2 free T-shirts and their photo on our website and facebook page.  (See official form for more details on cash prize.)  Contest is open to all ages.
The second contest is called "CORKED" will be held in conjunction with Butler Winery and Brown County Winery.  While the three wineries are still working out the details, we are looking for your BEST CORK SCULPTURES.  Each sculpture must contain at least one cork from a winery on the Indiana Uplands Wine Trail.  See the winery for more details.