Chocolate, Chocolate & . . . . Orange Peel?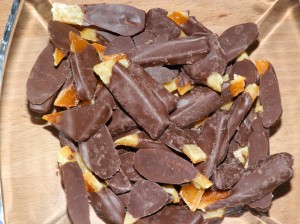 The Indiana Uplands Wine Trail's Annual Chocolate Lover's Weekend got off to a great start thanks to the wonderful weather provided by Mother Nature.  Who doesn't like 55 – 60 degree weather in February.  The preferred chocolate treat of the day at Best Vineyards was the Candied Orange Peel dipped in a rich blend of Belgian Chocolate.  These delectable tidbits are the perfect pairing for out white port, Crystal Flame, by bringing out the citrus flavors in the Chardonel and Moscato.  (And, yes, we actually purchased a case of Navel Oranges just for the peel and donated the oranges to a local church.)  Guests to the winery were also offered other wine and sweet treat pairings such as Petite Red Velvet Cupcakes and Nouveau wine.  Join us again this weekend for more scrumptious treats.
And, if the tasting room gets a little crowded, spend a few minutes trying out the over-sized dexterity puzzle specially designed for the Valentines Day holiday.  The hand-eye challenge of rolling a ball into a hole or tilting a capsule through a maze has proved among the most delightful, maddening, and enduring diversions of the modern age, despite, or perhaps because of, its sheer simplicity.  Place six colored balls in the correct colored heart in 60 seconds or less and win a special prize.