Nouveau weekend has arrived!
Need a unique holiday gift for someone special or a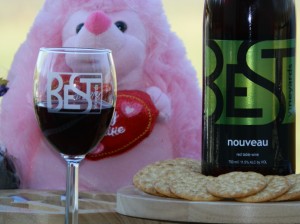 great story to tell at the Thanksgiving Day dinner table this year?  Why not tell your guests about your own bottling experience at Best Vineyards during our Nouveau weekend, November 21 thru 24.  (It also makes for a great photo op.)  In keeping with the fifty year tradition in France, customers purchasing a bottle of the 2013 Nouveau wine this weekend will get the opportunity to rinse, fill, cork and label their own bottle of wine.  This wine was produced in the traditional style of the French Beaujolais Nouveau's but with a Hoosier twist.  Chambourcin and NY Muscat clusters are fermented in a process called carbonic maceration which have produced a very young, fruit forward wine that will pair well with next week's turkey.